EHR Tip of the Week:


When you cross labs off the requisition it causes additional investigation by the lab and therefore, may cause a delay in sending the patient's results.  
Instead of crossing tests off the requisition, cancel or delete the order and re-order the tests that need to be performed.
Here's how:
Deleting an Order (should ONLY be done the same day by the same user)
Orders can be deleted on the same day and must be deleted from both the Lab Master Grid and the Order Module
·         In the Lab Master, Right click on the lab and select delete.

·         From the order module, select the orders summary tab

·         Locate your encounter date. Highlight the order and select the delete button.

·         Don't forget to return to the Lab Master and re-order the labs and reprint your requisition.
Cancelling an Order
Cancelling orders is done when directed by the ordering Provider. By changing the status to "Cancelled" your office will not need to work these labs on the overdue labs report. Orders should be cancelled from the order module because it will update order management as well (saves the users steps!)
From the Order Module
·         Select the Orders Summary Tab

·         Locate your encounter date. Highlight the order and select the Cancel button. Note: this can only be performed on the correct unlocked encounter.

·         A pop-up will appear to enter the reason for canceling the order.
§ Enter comment
§ Select the Cancel Order button.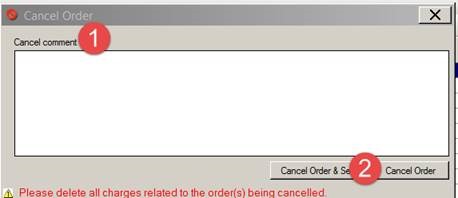 ·         This will cancel your order. At this time you will see that the orders status has been changed to "Cancelled" in the Order Module
·         You can reorder labs at this time and reprint your requisition

NOTE: The cancelled order status will also be reflected in Order Management.

Resolved EHR Tickets:
·        Referral Template:
o   The address and phone number will now print to the requisition for all locations (when user selects "location").
o   Picklists have been updated:
§  Dentistry has been added.
§  UofM PT is now listed under UHMS.
·         Diagnostics template: you now have the ability to order Creatinine/GFR.
1.      Verify billing dx. code for the lab is highlighted in top Left grid
2.      Select "Order Creatinine/GFR"
3.      Order is placed (User will see "CRE Submitted" box is checked once order is placed)
a.      User can view CRE/GFR order on Lab Master, Order Management and/or CheckOut

CONTACT:
For EMR break/fix issues: HelpDesk (734) 747-6766 Option #7 or or Shoretel – Ext: 10007
For EMR enhancement requests: Joselyn Foster, RMA EMR Analyst x10266
For EMR Training Needs:  Stephanie Thomas, EMR Education Specialist; x10669