WHO DO I CONTACT FOR MY EMR NEEDS?
For EMR break/fix issues: HelpDesk (734) 747-6766 Option #7 or or Shoretel – Ext: 10007
For EMR enhancement requests: Carrie Fauer, RN EMR Analyst; x10509
For EMR Training Needs:  Nancy Mathison, EMR Education Specialist; x10554
EHR Tip of the Week:
There are 5 ways in EMR to access patient appointments

5. From Postpartum Call: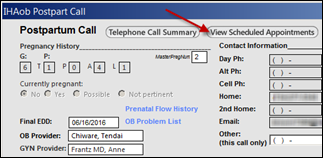 REMINDER:
1.       Please remember to include the following information when you submit a helpdesk request to add location/providers:
a.       Location Name
b.      Provider Name (First and Last)
c.       Address
d.      Phone Number
e.      Fax Number
2.       Documentation of a patient's Hysterectomy– This is important!
a.       Why? This is important for quality care because patients who have had a hysterectomy w/ removal of the cervix (and have no h/o abnormal Pap smears) would often unnecessarily be getting Pap smears done.  Testing in this population of patients is not needed.  This is also something that insurance payers are monitoring and if documentation is done incorrectly this can affect reimbursement.
b.      How do I document it? See attached.
Resolved EHR Tickets:
·         Quick Referral Updates:
o   Added column on Quick Referral to indicate if internal or external referral order
o   Obstetrics/GYN > UMHS > Added location 'UMHS Center for Vulvar Diseases'
o   Behavioral Health/Psychiatry > SJMHS > Added locations for 'St Mary Mercy Outpatient Psychiatric Service'
o   Referral and Therapies Non-Preferred > Added 'Other' as an Group option for all Specialties
o   Added an Internal referral column to the grid on the referral pop up.  A 'Y' in this column indicates a IHA internal referral; a 'N' indicates an external referral.