EHR Tip of the Week:
Looking for a lab letter that will allow you to pull a specific timeframe?
Then, the Custom Date Lab Letter is for you!
When you receive a request from a patient to have the last calendar year of results, for example, follow the steps below:
Open Document Library > enter Start and End date in blank fields under Custom Date Lab Lette

Click on "Custom Date Lab Letter" and it will generate a letter for the dates specified.
REMINDER:
If a patient is referred to the ER or UC over the phone, please remember to document this in EMR. Here's how!
*We use this information as a part of ER/UC Utilization tracking
· Open iCommunication
· Click Medical Question/Other

· Click in the checkbox next to "Other" and select appropriate action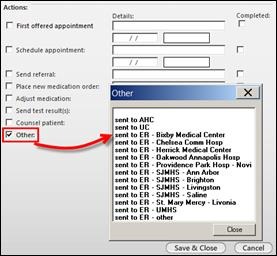 Resolved EHR Tickets:
· In order to make it easier for you to document your call attempts with referrals, the Order Management action/comment pick list now contains options for 1st call, 2nd call, 3rd call
*Please note 3rd call is not a trigger term, you still must use recall complete
CONTACT:
For EMR break/fix issues: HelpDesk (734) 747-6766 Option #7 or or Shoretel – Ext: 10007
For EMR enhancement requests: Carrie Fauer, RN EMR Analyst; x10509
For EMR Training Needs: Nancy Mathison, EMR Education Specialist; x10554