PEDIATRIC Weekly EHR Update 09/21/2015
ICD-10 – Where will I see changes in NextGen on October 1st?
Labs and Diagnostics-

The Chronic Dx grid is

available on the Lab Master and Diagnostics templates will only show newly applied ICD-10 codes if they were applied to a patient's chart and marked "chronic" during the dual coding period (Sept. 8 – 30, 2015).

  

If no dual codes were applied to the patients chart, the grid will be blank.

 

Going forward these grids will be rebuilt with ICD-10 codes as they are entered as chronic.
o   When codes are selected from this grid, the code will be added to Today's Assessments
Procedures requiring laterality for increased specificity
o   This is a simple example that shows laterality for an ear procedure.


o   Here is an example for a GYN Biopsy / Destruction. You'll notice that many more codes are available in ICD-10.
The Interceptor Tool – this will ONLY appear if the user attempts to submit to superbill with a ICD-9 code that was not mapped to ICD-10. In this example, an ICD-9 code was saved with a procedure saved default. IF the user gets this pop up, #1 They will need to select the ellipsis button and pick the ICD-10 code and #2 select "ok" to close the interceptor tool. Users who see this pop up are asked to report this to the Help Desk immediately. Go to the LNF -> Help Desk Ticket" and note which template you are on.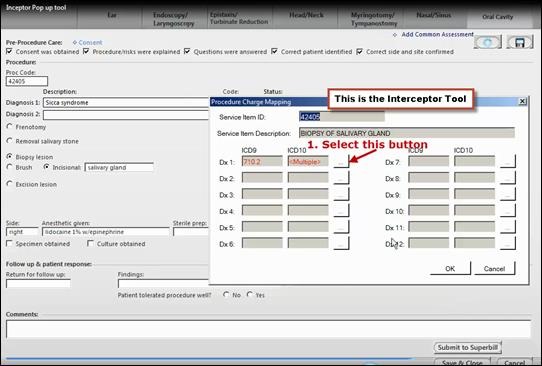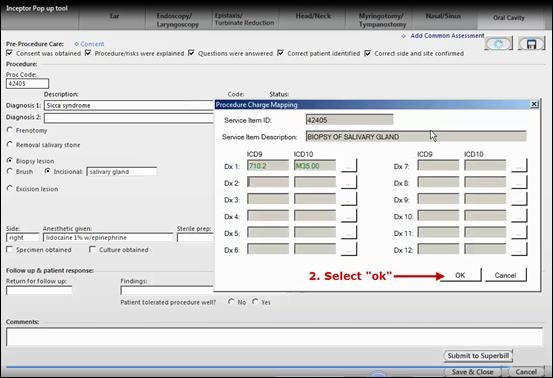 Coming Soon:
PHQ-9 Enhancements – work is in progress which will enhance the documentation for major depression. Providers will have the ability to add a major depression diagnosis directly from the PHQ-9. Links to further document on the Mood Disorders HPI will be applied to help facilitate complete documentation. If the patient's PHQ score indicates that a depression diagnosis should be considered and this was not added to today's assessments, providers will receive a pop-up on the finalize visit asking to apply if appropriate. This was approved by Operation 230-PMPM.
HPIs to help increase specificity for coding ICD-10.

 

Coding and compliance has made several recommendations for minor changes to HPIs to assist providers in documenting increased specificity.

Generic HPI:

 

added a free text box to allow for documenting "what caused the problem"

Nephrology HPI (Chronic Kidney Disease): the ability to indicate the stage and patients last Creatinine and GFR will be displayed on the HPI

COPD follow-up HPI: updated status pick list

Stroke HPI: Hand dominance from social histories will be shared on this HPI. Field to document which side was affected by the stroke.

Diabetes Mellitus – Updated complication status to allow further documentation based on ICD-10

Smoking status – will have automatic triggering to code for ICD-10.

Mood Disorders HPI: Updated Status pick list
Development import freeze until Oct 12
We are busy preparing the database for ICD-10. There will be no changes imported into the Production database until 10/12. Patient safety tickets will be the exception. The goal is to ensure we have a solid database for the ICD-10 roll out on October 1st.
IMports
·         DME order requisitions will now display ICD 9 and ICD 10 codes.
EHR Tip of the Week:
There are two ways you can view your categories, Group view or Flatten view.
Group View Setting: Will group the specific test or scanned document by name, i.e. as shown below all the EKGs are listed under the category of EKG.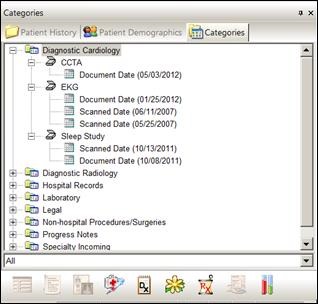 If you want to change your view from group view to flatten view, right click on a category (for this example: Diagnostic category) and click Flatten View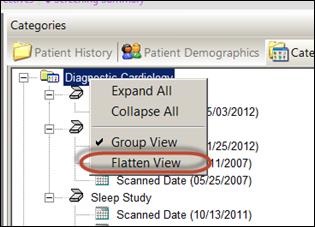 The scanned documents will organize by category and then by scanned/document date. This could save clicks and make it easier on users to find the most recent scanned documents by category.
Flatten view: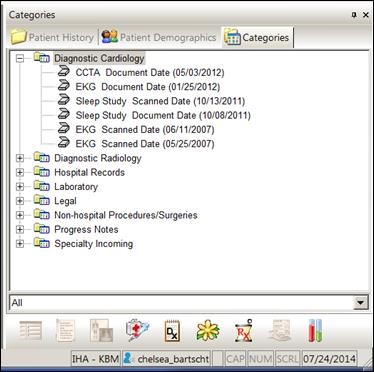 The setting will stay for every patient until you manually change them back.