ICD-10 is coming this Thursday!
Anti-Coagulation Template – Users will be prompted to select an ICD-10 code when opening the Anticoag template in encounters post ICD-10 update (10/1/2915)
Labs and Diagnostics– The Chronic Dx grid is available on the Lab Master and Diagnostics templates will only show newly applied ICD-10 codes if they were applied to a patient's chart and marked "chronic" during the dual coding period (Sept. 8 – 30, 2015).   If no dual codes were applied to the patients chart, the grid will be blank.  Going forward these grids will be rebuilt with ICD-10 codes as they are entered as chronic.
When codes are selected from this grid, the code will be added to Today's Assessments
 Procedures requiring laterality for increased specificity
This is a simple example that shows laterality for an ear procedure.


 Custom Picklists
Here is an example for a GYN Biopsy / Destruction. You'll notice that many more codes are available in ICD-10.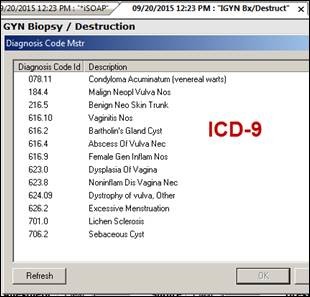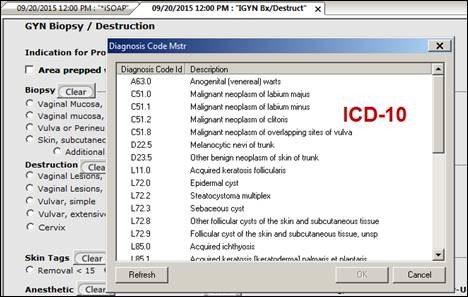 The Interceptor Tool – this will ONLY appear if the user attempts to submit to superbill with a ICD-9 code that was not mapped to ICD-10. In this example, an ICD-9 code was saved with a procedure saved default. IF the user gets this pop up, #1 They will need to select the ellipsis button and pick the ICD-10 code and #2 select "ok" to close the interceptor tool. Users who see this pop up are asked to report this to the Help Desk immediately. Go to the LNF -> Help Desk Ticket" and note which template you are on.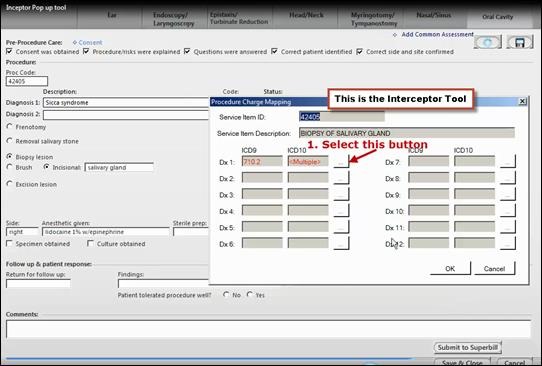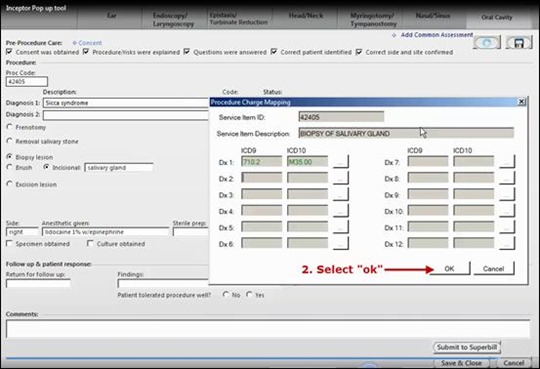 Assessment Tab– if the user selects an ICD-9 code from the Diagnosis History, the user will be prompted with a NextGen Search tool to pick an ICD-10 code. In this example, there is a 1-to-1 match between the ICD-9 code for cough and the ICD-10 code for cough. 1. Select the ICD-9 code and 2. When the NextGen Search pops up select the ICD-10 code and choose the "Select" button.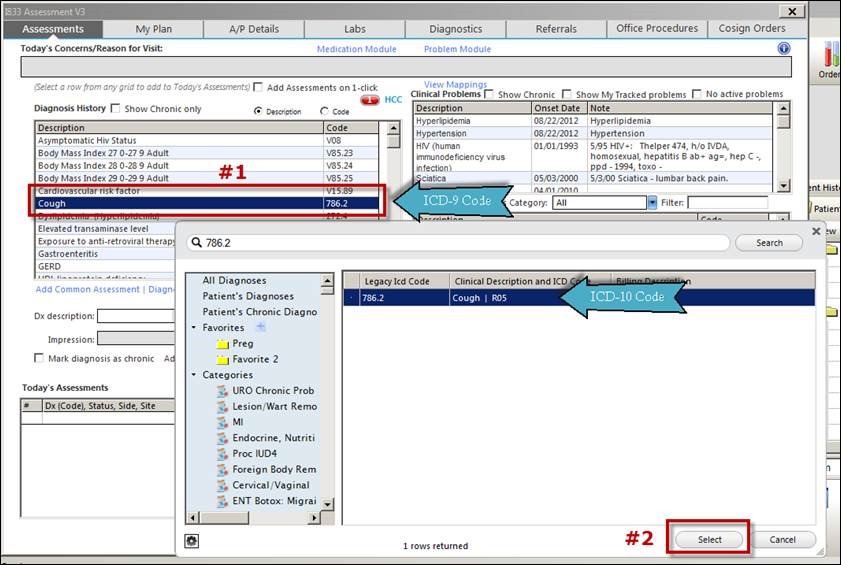 The items below will be imported Thursday, October 10, 2015
Six HPI's will be updated to help increase specificity for coding ICD-10.  Coding and compliance has made recommendations for minor changes to the following HPIs to assist providers in documenting increased specificity:
Generic HPI:  added a free text box to allow for documenting "what caused the problem"

Nephrology HPI (Chronic Kidney Disease): the ability to indicate the stage and patients last Creatinine and GFR will be displayed on the HPI

COPD follow-up HPI: updated status pick list

Stroke HPI: Hand dominance from social histories will be shared on this HPI. Field to document which side was affected by the stroke.

Diabetes Mellitus – Updated complication status to allow further documentation based on ICD-10

Mood Disorders HPI: Updated Status pick list
Coming Soon!
Morbid Obesity – To assist providers in reporting HCC codes for Morbid Obesity, when the BMI shows that the patient is obese or morbidly obese, the condition will be added to the problem list using the appropriate SNOMED code. This was approved by Operation 230 PM-PM.
Smoking Status triggers will be linked to ICD-10 codes and will flow to today's assessment. The appropriate code will be applied for a current smoker if indicated for cigarette, cigarillo, cigar, and pipe as well for non-smoking products: chew, smokeless and snuff, when these are populated on the Tobacco Use template.  The applicable code will also flow if patient was a former smoker; if smoking cessation counseling time is filled out and if the patient has had passive smoke exposure documented.